Last night as I laid in bed I felt sad... worried... anxious.
Some family situations were/are weighing heavy on my heart.
My heart so overwhelmed with emotion, I couldn't even cry or sleep.
Fortunately the issues at hand really don't have anything to do with me.
Unfortunately, that means there is not much I can do personally to fix it.
Minutes passed... I began to pray.
All the worries in the world- He has in His hands.
He is a loving Father that can make all things new.
Rather than fighting through the anxiousness just enough to go to sleep,
I was going to fight it with thankfulness, peace & trust.
Therefore let us be grateful for receiving a kingdom that cannot be shaken, and thus let us offer to God acceptable worship, with reverence and awe, for our God is a consuming fire.
(Hebrews 12:28-29 ESV)
Therefore, as you received Christ Jesus the Lord, so walk in him, rooted and built up in him and established in the faith, just as you were taught, abounding in thanksgiving.
(Colossians 2:6-7 ESV)
His love is steadfast.
He calms the storm.
(although I stirred it up)
He turns desert into pools of water,
parched land into springs of water.
(even when I put myself in the desert)
(See Psalm 107)
"We would worry less if we praised more.
Thanksgiving is the enemy of discontent and dissatisfaction."
~ Harry Ironside
Today, I give thanks with a grateful heart. When I am weak, He makes me strong.
When I don't have answers, He does.
Rest in Him.
Find refuge in His arms.
He is faithful and good.
Worthy to be trusted.
Holy.
Just.
Rich.
Righteous in all His ways.
Abounding in love.
Wise.
Restorer.
Healer.
Sovereign.
I AM.
He is all this and so much more.
More than enough to be thankful.
More than enough to rest in.
More than enough.
Ending today with a couple things that make my heart overflow with gratitude...
He was happy to oblige mommy w/ a photoshoot... NOT.
Ava sliding w/ mommy... Her laugh at the end... melts my heart
So, are
you
ready to embrace the camera?
here's the nitty gritty:
1. take a picture with

you

and your kids/spouse/family member/friend/whatever.
2. blog about that picture and include a link to our blog, or grab our button.
3. link your blog post up on the link tool here (@ the anderson crew).
4. visit the other embracers...give each other lots of compliments about how good we look with our greasy hair andsweatpants velour jogging suits on. cause yah, we need a little boost when it's been days since our last shower.
5. have fun!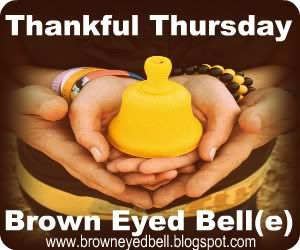 Linking up again w/ Brown Eyed Bell(e) this week :)